총 182페이지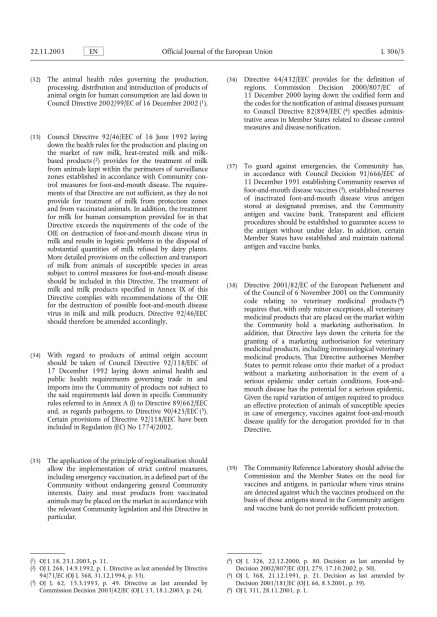 22.11.2003
EN
OfficialJournaloftheEuropeanUnion
L306/5
(32) The animal health rules governing the production,
(36) Directive 64/432/EEC provides for the definition of
processing, distributionandintroductionofproductsof
regions. Commission Decision 2000/807/EC of
animal originfor humanconsumption arelaiddownin
11 December 2000 layingdown thecodified form and
1
CouncilDirective2002/99/ECof16December2002(
).
thecodesforthenotificationofanimaldiseasespursuant
4
to Council Directive 82/894/EEC(
) specifies adminis-
trativeareasinMemberStates relatedto diseasecontrol
measuresanddiseasenotification.
(33) Council Directive 92/46/EEC of 16 June 1992 laying
downthehealthrulesfortheproductionandplacingon
the market of raw milk, heat-treated milk and milk-
based products(
2
) provides for the treatment of milk
(37) To guard against emergencies, the Community has,
from animalskeptwithin theperimetersof surveillance
in accordance with Council Decision 91/666/EEC of
zones established inaccordance with Community con-
11December1991 establishingCommunityreservesof
trol measures for foot-and-mouth disease. The require-
foot-and-mouthdiseasevaccines(
5
), establishedreserves
mentsof thatDirectivearenotsufficient,astheydonot
of inactivated foot-and-mouth disease virus antigen
provide for treatment of milk from protection zones
stored at designated premises, and the Community
andfrom vaccinatedanimals. Inaddition,thetreatment
antigen and vaccine bank. Transparent and efficient
for milk for human consumption provided for in that
proceduresshouldbeestablished toguaranteeaccess to
Directive exceeds the requirements of the code of the
the antigen without undue delay. In addition, certain
OIE on destruction of foot-and-mouth disease virus in
Member States have established and maintain national
milk and results in logistic problems in the disposal of
antigenandvaccinebanks.
substantial quantities of milk refused by dairy plants.
Moredetailedprovisionsonthecollectionandtransport
of milk from animals of susceptible species in areas
subjectto control measuresfor foot-and-mouthdisease
should be included in this Directive. The treatment of
(38) Directive 2001/82/EC of the European Parliament and
milk and milk products specified in Annex IX of this
oftheCouncilof6November2001ontheCommunity
Directive complies with recommendations of the OIE
code relating to veterinary medicinal products(
6
)
for the destruction of possible foot-and-mouth disease
requires that,withonly minorexceptions,allveterinary
virus in milk and milk products. Directive 92/46/EEC
medicinalproductsthatareplacedonthemarketwithin
shouldthereforebeamendedaccordingly.
the Community hold a marketing authorisation. In
addition, that Directive lays down the criteria for the
granting of a marketing authorisation for veterinary
medicinalproducts,includingimmunologicalveterinary
(34) With regard to products of animal origin account
medicinal products. That Directive authorises Member
should be taken of Council Directive 92/118/EEC of
States to permitreleaseonto theirmarket of aproduct
17 December 1992 laying down animal health and
without a marketing authorisation in the event of a
public health requirements governing trade in and
serious epidemic under certain conditions. Foot-and-
importsintotheCommunityofproducts notsubjectto
mouth disease hasthe potentialfor a seriousepidemic.
thesaid requirementslaid downinspecificCommunity
Giventherapidvariationofantigenrequiredtoproduce
rulesreferredto inAnnexA(I)toDirective89/662/EEC
an effectiveprotection ofanimals ofsusceptible species
3
and, as regards pathogens,to Directive 90/425/EEC(
).
in caseof emergency,vaccines againstfoot-and-mouth
Certain provisions of Directive 92/118/EEC have been
disease qualify for the derogation provided for in that
includedinRegulation(EC)No1774/2002.
Directive.
(35) Theapplicationoftheprincipleofregionalisationshould
(39) TheCommunityReferenceLaboratoryshouldadvisethe
allow the implementation of strict control measures,
Commission and the Member States on the need for
includingemergencyvaccination,inadefinedpartofthe
vaccines and antigens, in particular where virus strains
Community without endangering general Community
aredetectedagainstwhichthevaccinesproducedonthe
interests. Dairy and meat products from vaccinated
basisofthoseantigensstoredintheCommunityantigen
animalsmaybeplacedonthemarketinaccordancewith
andvaccinebankdonotprovidesufficientprotection.
therelevantCommunitylegislation andthisDirectivein
particular.
1
4
(
) OJL18,23.1.2003,p.11.
(
) OJ L 326, 22.12.2000, p. 80. Decision as last amended by
(
2
) OJL268,14.9.1992,p.1.Directive aslastamendedbyDirective
Decision2002/807/EC(OJL279, 17.10.2002,p.50).
94/71/EC(OJL368,31.12.1994,p.33).
(
5
) OJ L 368, 21.12.1991, p. 21. Decision as last amended by
3
(
) OJ L 62, 15.3.1993, p. 49. Directive as last amended by
Decision2001/181/EC(OJL66,8.3.2001, p.39).
6
CommissionDecision2003/42/EC(OJL13,18.1.2003,p.24).
(
) OJL311,28.11.2001,p.1.

24페이지 본문끝


현재 포커스의 아래내용들은 동일한 컨텐츠를 가지고 페이지넘김 효과및 시각적 효과를 제공하는 페이지이므로 스크린리더 사용자는 여기까지만 낭독하시고 위의 페이지이동 링크를 사용하여 다음페이지로 이동하시기 바랍니다.