총 182페이지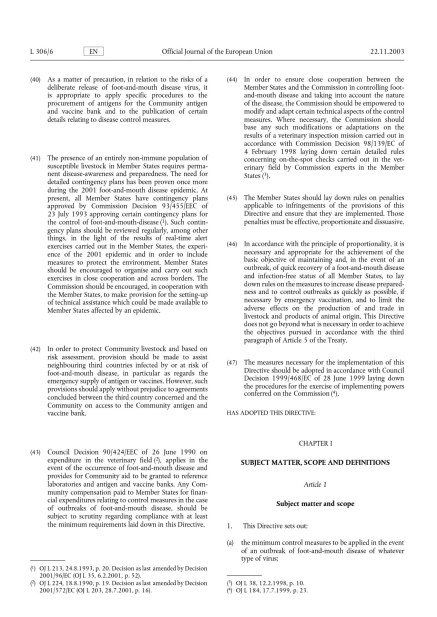 L306/6
EN
OfficialJournaloftheEuropeanUnion
22.11.2003
(40) As a matter of precaution, in relation to the risks of a
(44) In order to ensure close cooperation between the
deliberate release of foot-and-mouth disease virus, it
MemberStates andtheCommissionincontrollingfoot-
is appropriate to apply specific procedures to the
and-mouth disease and taking into account the nature
procurement of antigens for the Community antigen
ofthedisease,theCommissionshouldbeempoweredto
and vaccine bank and to the publication of certain
modifyandadaptcertaintechnicalaspectsofthecontrol
detailsrelatingtodiseasecontrolmeasures.
measures. Where necessary, the Commission should
base any such modifications or adaptations on the
results of aveterinary inspectionmission carriedoutin
accordance with Commission Decision 98/139/EC of
4 February 1998 laying down certain detailed rules
(41) The presenceof an entirelynon-immune populationof
concerning on-the-spot checks carried out in the vet-
susceptible livestock inMember States requires perma-
erinary field by Commission experts in the Member
nent disease-awareness and preparedness. The need for
States(
3
).
detailed contingencyplanshas been proven once more
during the 2001 foot-and-mouth disease epidemic. At
(45) The Member States should lay down rules on penalties
present, all Member States have contingency plans
applicable to infringements of the provisions of this
approved by Commission Decision 93/455/EEC of
Directive and ensure that they are implemented.Those
23 July 1993 approving certain contingency plans for
penaltiesmustbeeffective,proportionateanddissuasive.
the control of foot-and-mouth-disease(
1
). Such contin-
gencyplansshould bereviewed regularly,among other
things, in the light of the results of real-time alert
(46) Inaccordancewiththeprincipleofproportionality, itis
exercises carried out in the Member States, the experi-
necessary and appropriate for the achievement of the
ence of the 2001 epidemic and in order to include
basic objective of maintaining and, in the event of an
measures to protect the environment. Member States
outbreak,ofquickrecoveryofafoot-and-mouthdisease
should be encouraged to organise and carry out such
and infection-free status of all Member States, to lay
exercises in close cooperation and across borders. The
downrulesonthemeasurestoincreasediseaseprepared-
Commissionshouldbeencouraged,incooperationwith
ness and to control outbreaks as quickly as possible, if
theMemberStates,tomake provisionforthesetting-up
necessary by emergency vaccination, and to limit the
oftechnicalassistancewhichcouldbemadeavailableto
adverse effects on the production of and trade in
MemberStatesaffectedbyanepidemic.
livestock and products of animal origin. This Directive
doesnotgobeyondwhatisnecessaryinordertoachieve
the objectives pursued in accordance with the third
paragraphofArticle5oftheTreaty.
(42) In order to protect Communitylivestock and based on
risk assessment, provision should be made to assist
(47) The measures necessary for theimplementation of this
neighbouring third countries infected by or at risk of
DirectiveshouldbeadoptedinaccordancewithCouncil
foot-and-mouth disease, in particular as regards the
Decision 1999/468/EC of 28 June 1999 laying down
emergencysupplyofantigenorvaccines.However,such
theproceduresfortheexerciseofimplementingpowers
provisionsshouldapplywithoutprejudicetoagreements
4
conferredontheCommission(
),
concludedbetweenthethirdcountryconcernedandthe
Community on access to the Community antigen and
vaccinebank.
HASADOPTEDTHISDIRECTIVE:
CHAPTERI
(43) Council Decision 90/424/EEC of 26 June 1990 on
2
expenditure in the veterinary field(
), applies in the
SUBJECTMATTER,SCOPEANDDEFINITIONS
event of the occurrence of foot-and-mouthdisease and
provides for Communityaid to begranted to reference
laboratories and antigen and vaccine banks. Any Com-
Article1
munity compensation paidto Member Statesfor finan-
cialexpendituresrelatingtocontrolmeasuresinthecase
Subjectmatterandscope
of outbreaks of foot-and-mouth disease, should be
subject to scrutiny regarding compliance with at least
theminimumrequirementslaiddowninthisDirective.
1.
ThisDirectivesetsout:
(a) theminimumcontrolmeasurestobeappliedintheevent
of an outbreak of foot-and-mouth disease of whatever
typeofvirus;
(
1
) OJL213,24.8.1993,p.20.DecisionaslastamendedbyDecision
2001/96/EC(OJL35,6.2.2001, p.52).
2
3
(
) OJL224,18.8.1990,p.19.DecisionaslastamendedbyDecision
(
) OJL38,12.2.1998,p.10.
4
2001/572/EC(OJL203,28.7.2001,p.16).
(
) OJL184,17.7.1999,p.23.

26페이지 본문끝


현재 포커스의 아래내용들은 동일한 컨텐츠를 가지고 페이지넘김 효과및 시각적 효과를 제공하는 페이지이므로 스크린리더 사용자는 여기까지만 낭독하시고 위의 페이지이동 링크를 사용하여 다음페이지로 이동하시기 바랍니다.